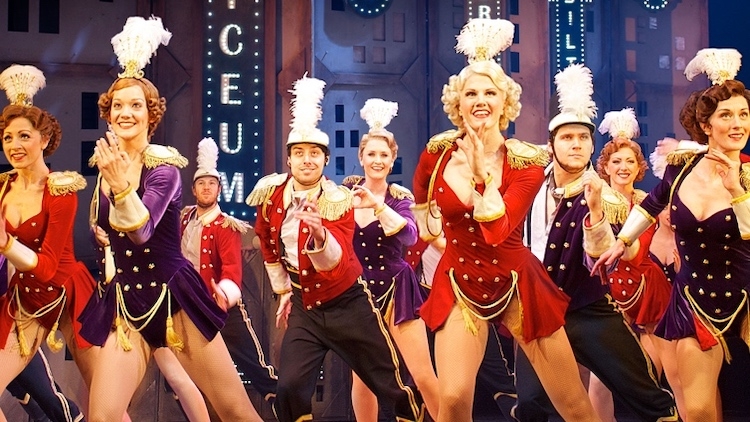 Crazy For You production photography by Roy Tan.
Crazy For You opened at the Open Air Theatre, Regent's Park last week (8 August, previews from 28 July 2011) reuniting artistic director Timothy Sheader with the multi-award winning creative team behind last year's Hello, Dolly! - choreographer Stephen Mear and designer Peter McKintosh.
Set at the time of the Great Depression, Ken Ludwig's 1992 escapist Broadway musical is largely based on the 1930 Gershwin musical Crazy Girl, but includes several other Gershwin hits including "I Got Rhythm", "Someone To Watch Over Me", "Embraceable You" and "Nice Work If You Can Get It".
The musical was last seen in the West End at the Prince Edward Theatre where it opened in March 1993 starring Ruthie Henshall, Kirby Ward and Chris Langham and ran for almost three years. The Open Air's production, which runs until 10 September 2011, stars Kim Medcalf, David Burt, Sean Palmer, Clare Foster, Harriet Thorpe and Michael McKell.
An American playwright and director, Ludwig is also the author of comedy Lend Me A Tenor, the Sham and Carroll musical adaption of which recently enjoyed a short-lived West End run at the Gielgud Theatre - the same West End house where the play had premiered in 1986.
Whatsonstage.com's Andrew Girvan talks to Ludwig about re-writing a 1930s musical for a modern audience and seeing your own work adapted for the musical stage.
---
The producers had acquired the right to do a Gershwin musical. They came and asked me if I'd do it because I'd written a comedy on Broadway.
I was of course very flattered and thrilled to be asked to do it, but I have to say I hesitated. I didn't know how I would write a book to a musical. But then I found director Mike Ockrent, and we found Susan Stroman who was an unknown choreographer at the time.
I wrote it very quickly, it was ready to go as soon as we could. They came to me in December 1991 and I had done the first draft by March 1992. We did a workshop, and everyone was really happy with it so they scheduled rehearsals for summer. We were up and running at the National Theatre in Washington DC for an out of town try-out by October.
It went very quickly and lo and behold we had quite a success. It played for years and years on Broadway, then it came here to London and won two Olivier Awards (Best New Musical and Best Theatre Choreographer). So it worked out. It was a real labour of love.
The music and lyrics are all by George and Ira Gershwin. George did write with other lyricists and Ira did write with other composers during her lifetime but this was all George and Ira.
I was originally asked to do an adaptation of the musical Girl Crazy because it seemed to be their most successful musical. But musicals in those days were very different and I read the script and, with respect to the authors who are long gone, it didn't hold together or make sense for audiences today. It had a lot of stereotypes that we would find repugnant; it had not much of a storyline, a very thin little thread; it was like lots of little sketches, then a great song.
I said to the producers that I didn't feel comfortable trying to do an adaptation of Girl Crazy, but they let me try to write a whole new musical from scratch. We kept one element from the book: By going West - from New York to Nevada - I was allowed to take two of the numbers and make them feel like book songs, that really told the story of the musical.
I got to choose the numbers, it was completely me. There was nothing there, they said I had the right to all those songs. George and Ira Gershwin wrote over 400 songs together and I tracked them down on CDs. I must have the biggest selection of Gershwin CDs in the world, because I would just track them in any way I could.
They had their own archivists and were helpful. I listened to Maureen McGovern on her album doing a version of "Naughty Baby" and I thought, "I've got to get that song, it's terrific," as well as Michael Feinstein doing "What Causes That?". There's a wonderful album that Louis Armstrong and Ella Fitzgerald did with duets of Gershwin songs. That encouraged me to use others. I just started at the beginning and tried to come up with a story and put songs into the moments.
All the time, nothing was considered sacred. If a song worked we worked it in. If it didn't we'd put in another one, trying to use all Ira and George songs. They were geniuses, truly, two great geniuses in America's history.
I've done outdoor Shakespeare and those sorts of things but having my work performed outdoors is a new experience for me. Its very interesting, like I'm writing a children's play. I went to one of the theatre's previous productions and I was struck by how much of a different experience it is. There are planes which fly over and people have a drink in their hand. It's a different experience which is enormously exciting.
I'm thrilled to be over here, I cannot speak highly enough of the people doing the production of Crazy For You. Such professionals. Timothy Sheader did one of my shows a while ago and he's an amazing director. To work with him has been incredible.
Years and years ago Peter Sham and Brad Carroll came to me and said they would like to take a musical of Lend Me A Tenor and I said "lets give it a shot."
They're good guys. They worked very hard and produced that musical together and they were very good. They premiered it at the Utah Shakespeare Festival several years ago and I went out to see it and it was very good. The audiences loved it.
I really kept hands off. When they first did it, they tried to be very respectful of me and the material and I said, "don't treat me or the material with kid's gloves. Don't open the musical in the living room of the hotel suite. Don't write a play about the hotel suite, open it up, make it a real musical, go to the theatre, go to the party, go behind the theatre." They started writing a musical - which they did beautifully - and the next thing I hear they're doing it out of town, then a theatre in London and the next thing I know they're in the Gielgud.
I spend my life thinking about theatre and musicals so I know every moment that might be related, I know every moment where Hello, Dolly! is different to The Matchmakers. I spend my life thinking about comedy on stage.
I think if I had adapted my own play I'd have a lot of emotional attachment to it and I probably wouldn't do as good a job as someone else who could get some perspective on it.
For some reason, Tenor has always had an international comedy flavour to it. It may be that it's set in the opera world and a little opera company so we can all have fun with it and not be too reverential. The Europeans do it all the time. It seems to have been translated in lots of countries, the Far East and South America. There seems to be elemental aspects to it, certain basic comic notions so basic to us, that you can see them in all cultures.
Crazy for You, the final production in the Open Air Theatre, Regent's Park's 2011 season, opened on 8 August (previews from 28 July) where it continued until 10 September 2011.
Originally published by Whatsonstage.com on 15 August 2011.