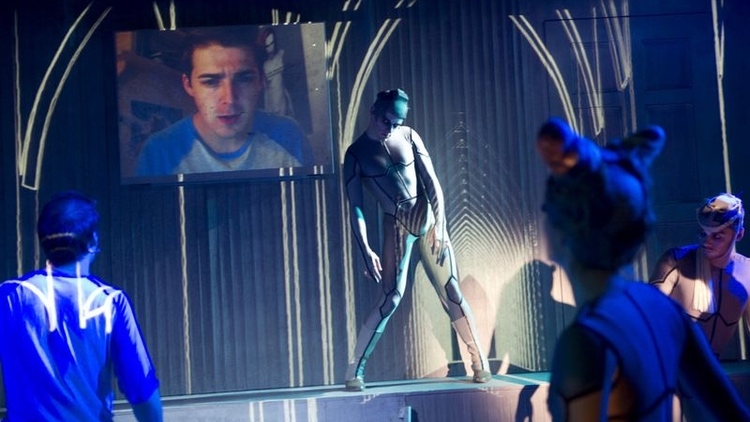 Pippin production photography by Tristram Kenton.
Gay Soper, whose extensive West End musical credits include The Canterbury Tales, Godspell, Billy, Side By Side By Sondheim, The Mitford Girls, Les Miserables, The Rink, Which Witch and Salad Days, takes over the role of Berthe in the Menier Chocolate Factory's revival of Pippin starting a week's run on Tuesday 24 January 2012.
Amongst her myriad other stage and television credits, Soper lists her favourite theatre roles as playing Yvette in Mother Courage alongside Diana Rigg at the National Theatre, Nurse in Good for the RSC, Cherry May in Nude With Violin at the Royal Exchange, Manchester, and April in Mrs Steinberg and The Byker Boy at the Bush.
Soper appears in Mitch Sebastian's production of Pippin alongside Ian Kelsey, Matt Rawle, Carly Bawden and Frances Ruffelle with Harry Hepple in the title role. The production continues until 25 February with Josie Lawrence and Louise Gold rotating into the role of Berthe.
She talks to Whatsonstage.com's Andrew Girvan about the musical, returning to the Menier Chocolate Factory and her long and varied career.
---
Can you tell me a bit about Pippin and the role of Berthe?
I think Pippin's story is a universal one. Of course, in its origin it's from medieval France, but it translates just as well to the kind of fantasy, brand new world.
We are using the original Bob Fosse choreography in the production. I got to see it twice as part of my preparations for the role and I've thoroughly enjoyed it. I love the fact that when you enter the auditorium you go through Pippin's bedroom and he is a typical teenage boy with posters of his favourite films and heroes posted around the wall. He's glued to his computer and got all of these gadgets that he's playing with.
I thought it was a really nice modern take on the adolescent boy who just doesn't know who he is or what he wants out of life. He doesn't know where he's going. His father is frightfully important because he's the King, and it's a very tricky position to be in.
So you watch Pippin wander through the world, trying to find his own identity. The meeting with his grandmother, which is the song that I sing, is what happens with all of us growing up. Our grandparents can be very helpful to us, there is a distance and therefore an objectivity. Pippin says to her "I just feel empty, vacant" and she realises instantly that he is just desperately over serious and that he really ought to be enjoying life for today. We haven't got long on this planet so we've really just got to go out and enjoy ourselves. The song that Berthe has is all about that, you've got to keep living, and just enjoy every day as it comes. She's part of his groaning up process really.
It is a really nice number. Obviously it's jolly scary to go into something that's already been up and running very successfully and very smoothly and to just suddenly be slotted in, but I'm hoping that I'll manage to slot in well.
How did you find yourself in the role and playing Berthe for a week?
I've got a wonderful agent, and I know with a lot of actors that's not what they think, but I think mine's wonderful. He brought Tom Siracusa, who is part of the management at the Chocolate Factory, to see me playing Nora in Noel Coward's Star Quality which was on tour last year. I'm going out again on tour this year in fact, straight after doing Pippin.
He brought Tom to see it and said to Tom, "why don't you have Gay playing Berthe in Pippin?" Tom said, "what a good idea."
It was a simple as that, but then there are also two other factors in that choice. One is that I was one of the early people to play at the Chocolate Factory as I was in Sunday in the Park with George. It was a massive hit, it transferred to the West End and we won five Olivier Awards. It was a wonderful thing to do, so I'm sort of part of the Chocolate Factory family.
The other thing is that many, many years ago I was in a big hit musical called Canterbury Tales. After Canterbury Tales I was in another big musical called Godspell and that was with David Essex, Jeremy Irons, Marti Webb and Julie Covington, and written by Stephen Schwartz. I suppose it was very, very nice for me to feel like I'm doing a Stephen Schwartz musical again. It's only the second Stephen Schwartz musical I've ever done.
Stephen Schwartz is one of Broadway and the West End's most prominent musical theatre composers with shows such as Wicked. Have you followed his career since performing in Godspell?
Yes I have. I went to see Wicked on Broadway with the original cast. To see those two young women in the leading roles really was one of the most exciting things I've ever seen in a theatre. I thought they were both absolutely stunning and were brilliant foils for each other. Kristin Chenoweth was gloriously witty and gave a very tongue in cheek performance as well as looking glorious. Idina Menzel, well of course we've seen her across in the West End too, but she was stunning. They were both marvellous. It's wonderful to see that he's being revived again in London with Pippin.
Did you see Pippin when the show originally transferred to the West End in 1973?
Yes, I went to see it, and I loved it. I remember Elisabeth Welch playing the role that I'll be doing. She was the most wonderful, glittering, starry lady. She was worshipped really, and loved by Noel Coward, but also I think by everyone in the world of theatre. It also, of course, marked the first leading role in the West End by Patricia Hodge. I did a show just after that with her called The Mitford Girls which was written by Caryl Brahms and Ned Sherrin.
How does it feel to see the shows you were in early career being revived - often ambitiously - Off West End now?
I think it's wonderful that they are being revived and of course they've got a different take on them, they've got to have a different take on them.
You can't just put a complete replica on the stage of what we watched back in the early '70s, it just really wouldn't work. I went to see Michael Strassen's production of Godspell at the Union Theatre and he had some really interesting takes on that - I very much enjoyed it.
Canterbury Tales, is a musical which is way, way over due for revival. It was gloriously successful, it ran over 2,000 performances in the West End and transferred to Broadway in 1969, it toured all around the US and played around the world.
It needs to be revived, and with Chaucer being the father of English literature, its quite scything that it hasn't. They've done play versions of it, but they haven't done the musical. I think it's wonderful that things are being revived, I'm all for it.
You mentioned being part of the 'Menier Chocolate Factory family', what is so special about that venue?
It's run by lovely people and I suppose that's probably the main thing, but it's a special building. There's so much wood, I think there is something very warm about that, and it gives it a rustic feeling. There's the marvellous restaurant at the front and the lovely bar and the box office all being part of it. There's just a lovely atmosphere and a feeling of innovation, of the being able to try new things, in safety and appreciation.
Some of the numbers in Pippin feel like standalone cabaret pieces, will you be using your cabaret experience to the role?
I think you're right and I'm hoping that my work in cabaret will help with that. I'm also hoping that my experience doing Victorian music hall, where it's just you with an audience, and you've either got to succeed or you will fail, just you to entertain them, I think that will help.
Can you tell me about what you are doing after your short stint in Pippin?
In terms of this coming year, the reason I could only do one week in Pippin, is because I'm going straight back on tour in Noel Coward's Star Quality. Straight after that, I'm going to be going back on tour with a revival of a comedy called Doctor in the House in which I'm playing the matron. So I'm going to be touring that until the end of July.
There is much media attention to there not being enough roles for older actresses, have you found that to be the case as you've progressed in your career?
I certainly did find that there weren't parts for me at one stage, but now I've reached a new level or something or a new age group where there are a whole lot more roles available. I'm really getting rather excited. I'm really hoping someone is going to ask me to do Madame Morrible in Wicked, I'd love to do that, I love the show.
Obviously there are certain roles that you have grown out of and that you're simply too old to play them any longer, but hopefully I'll keep going for a very long time.
Are there any other roles you would like to tackle?
I'd love to do some more Sondheim, anything in any Sondheim really. I love doing any new writing, I think it's really important to have new ideas and new people looking at life.
I've just had a fabulous career, because I've done straight plays, comedies, TV series and drama. I've done lots of musicals and even opera and operetta, and Victorian music hall and cabaret. I think I'm very lucky that I've managed not to be pigeon holed.
The other thing that lots of people know me from is The Flumps, which was a children's TV show on the BBC television from 1977 to 1987. There is a whole generation of people who know me from watching The Flumps then they were little.
Originally published by Whatsonstage.com on 23 January 2012.