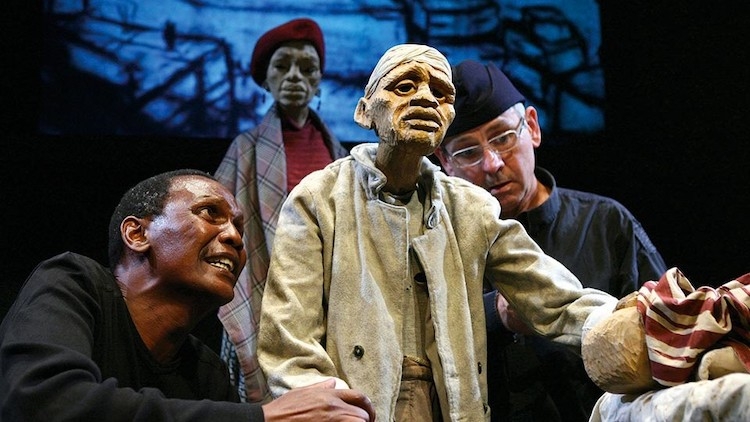 Woyzeck on the Highveld production photography by Barney Simon.
Handspring Puppet Company, creators of multi-award winning War Horse bring their critically acclaimed 1992 production Woyzeck on the Highveld to the Barbican from 6 to 10 September 2011 as part of a UK and European tour.
Woyzeck combines Handspring's trademark puppets with animated film and projection by fellow South African artist William Kentridge. Adapted from Georg Buchner's 1939 play, the piece takes the famous tale of jealousy, murder and the struggle of an ordinary German soldier against an uncaring society and retells it in industrialised 1950s Johannesburg with Woyzeck as a migrant worker.
Whatsonstage.com's Andrew Girvan talk to Adrian Kohler - who founded Handspring with Basil Jones in 1981 - about touring Woyzeck years after the show's original cast of puppets were donated to a German museum, and the international success of the Tony Award-winning War Horse.
---
We did our first play in South Africa in a traditional public theatre and we took a chance. It was a gentle piece about two women who lived on an isolated farm who find a way to join the struggle against apartheid. We thought we wouldn't get an audience, but, on the contrary, it proved to be very popular here and made our presence known in the theatre community.
A couple of years later in April 1992, artist William Kentridge approached us about a collaboration. He was starting to draw for projection in animated films so it took a lot of time to get anything moving along.
Once the play was up and running, a German theatre maker visited our National Arts Theatre in 1992. This was roughly two years after the release of Nelson Mandela. Just by luck he bought a ticket for our show and then booked it for Munich the following year. For around four and a half years we travelled with Woyzeck and did festivals all over the place.
After that it seemed like everyone who wanted to had seen it, so we put it away and moved the puppets to a museum in Munich. There's a great puppet museum there and we needed the cash to build a studio in Cape Town.
William had been making live actions films for some time and he made a piece about a person who lived on the street near his house called Harry. He was a bit of a rake and a colourful character. He not only featured in William's films but also as a drawing in a sketching series and William thought he'd like to make a play about Harry set against an industrial landscape in Johannesburg. The main character, Woyzeck, became Harry in our play and that's how Harry got his voice and how Johannesburg became the city.
We found that the original text was so much stronger than anything we could come up with, the book is a very considered and distilled piece of writing and suited the puppets very well because of that, the scenes are not long and the puppets worked pretty well in the silences between words.
Fifteen years after we closed the show down, the invite came from a big puppetry congress which was being held in Perth, Australia who wanted a piece from us. It was about a year after the opening of War Horse and they wanted War Horse of course, but it wasn't travelling yet.
We said we could possibly revive Woyzeck and I set about remaking the puppets but at that time, War Horse was in its second season at the National Theatre and I could only craft half them. I had to drop them and move back into moving horse parts, spare legs and heads. When a casualty happens on stage they needed a spare part to be fitted and we have a system which works so well that the audience wouldn't even notice.
I was halfway through the puppets and we had to go back to the museum in Germany and say "can we borrow these back?" It was two and a half years before I forced a window and managed to finish the new figures. So earlier this year we sent the rest of the cast back to Germany and now it's a fully new cast in Woyzeck.
In terms of the play itself, we haven't changed the structure at all. What we really wanted to do after a first break from the play was to plough back into the play what we had already learned about puppets in performance in the intervening years and that's how we approached the revival.
Unlike in England, you've got to be mad to go into theatre in South Africa, it's hardly a career. In South Africa a 'big one' very seldom happens. There have been big shows, but nothing on the scale of the West End. And suddenly it happened. At the beginning, no one expected this from War Horse and now its going global.
In War Horse the director Tom Morris has to marshall a group of 30 actors and puppeteers and the demands of the rehearsal room are rigorous. Tom is an incredibly brave and innovative man. The idea of turning a novel like War Horse, which involves ploughing and cavalry charges, doesn't make sense as a play at all if you think about it, but he saw it was possible. We didn't know how we were going to make horses, but we said yes straightaway because the idea of the novel is so brilliant.
Now we find we're able to employ 20 people full time and that is thrilling. I'm standing in the factory and there are horses all around me. We're just shipping off a whole bunch to Toronto tomorrow.
I love coming in here and seeing it all happen and that's what War Horse has done to us. It also means that we seem to work all the time. We try to carve out space for new work whilst taking the demands of Warhorse into account and that means there is not much time.
You hear about a Tony from a distance and its something that always happens to other people. Receiving the Tony was thrilling. Suddenly there we were, walking up the red carpet, going up on the stage with Whoopi Goldberg and other famous people. But you can't believe in it too much otherwise you'll never be able to do anything else.
We are working on a new idea but its too premature to tell you about. There are a few things in the pipeline. We are coming over to do a workshop with Tom Morris in two weeks time.
Woyzeck on the Highveld ran at the Barbican from 6 to 10 September 2011 before travelling to Warwick Arts Centre, the Lyric Theatre, Belfast, Aberwystwyth Arts Centre, Hall for Cornwall, Exeter Northcott and Oxford Playhouse.
Originally published by Whatsonstage.com on 5 September 2011.